Posted On: Aug 8th, 2017
"I see no reason for my doctor to love me – nor would I expect him to suffer with me. I wouldn't demand a lot of my doctor's time: I just wish he would brood on my situation for perhaps five minutes, that he would give me his whole mind just once, be bonded with me for brief space, survey my soul as well as my flesh, to get at my illness, for each man is ill in his own way." ~ Anatole Broyard (1992). "Intoxicated by my illness: and other writings on life and death."
Vera Krejcik, psychiatry resident at the University of Calgary and recipient of the 2016 Canadian Medical Association Award for Young Leaders, is currently delivering CALM Therapy to patients with advanced cancer in Calgary as part of a research study with Dr. Janet de Groot looking at the feasibility of the CALM intervention in Calgary's context.
Vera's interest in working with patients with advanced diseases sprung from her own history with illness and recovery. In the last year of her medical school, she had neurosurgery for a congenital malformation that resulted in a 5-month hospital stay with lots of complications. This subsequently framed her interest in both psychiatry and end-of-life care.
"There is something so profoundly lonely about that experience. Having a space to discuss is a privilege", said Vera. This is what has drawn Vera to learn more about CALM, a form of therapy designed to provide a safe, reflective space for patients and therapists to explore practical and existential challenges arising from a cancer diagnosis.
Vera first attended CALM Training in 2015. Since then she has delivered the therapy and received online supervision from Drs. Gary Rodin and Sarah Hales in Toronto. In May this year, Vera presented her own CALM patient case and shared video clips of the therapy sessions with other trainees.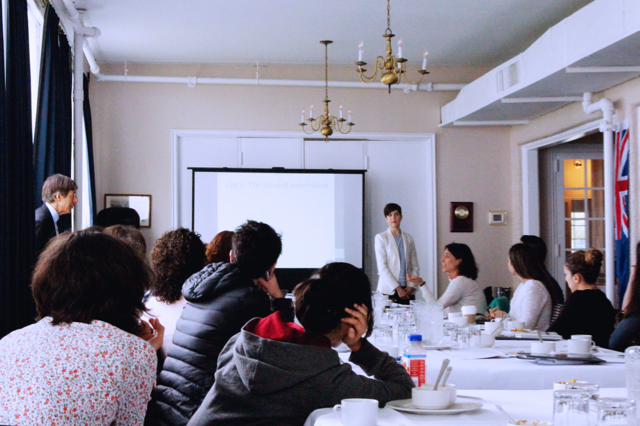 The therapy videos provided rich contextual information about the therapy, the patient, and the therapist.. This has been the format that CALM training has adopted in the past few years.
Yet showing one's own therapy videos often means exposing vulnerabilities for the therapist. However, when asked about the challenges of using videos in clinical settings, it turned that ensuring that the files are transferred from Calgary to Toronto without comprising patient privacy was the biggest concern.
Looking to the future, Vera hopes to continue to work with both patients with mental illness and also CALM patients dealing with end-of-life issues. She also hopes to continue disability advocacy work, particularly as it pertains to medical practice.
Related Info